Your home
What is an EPC?
An Energy Performance Certificate (EPC) is a record of a home energy audit carried out by a trained assessor. By entering information about the physical characteristics of your home into Standard Assessment Software (SAP), an assessor is able to calculate an energy efficiency rating from 0 to 100. The higher the score, the more efficient your home.
In addition to the current energy efficient rating, the EPC provides recommendations for cost-effective measures that could be installed to improve the efficiency of your home and the impact they would have on your fuel bill.
By law, an EPC assessment must be conducted when a property is built and anytime it is bought or sold thereafter, though once an EPC assessment is done it is valid for 10 years. EPC assessments may also be a requirement of government backed energy efficiency and renewables schemes (e.g. Feed-in Tariffs). 
What information does an EPC provide?
An EPC provides useful information about your home such as: 
current and potential energy rating
wall, floor and loft insulation
primary and secondary heating fuel
boiler efficiency
estimated space heating, water heating and electricity consumption (kWh)
estimated fuel bill
estimated CO2 emissions
prioritised recommendation for improving the efficiency of your home
Where can you find your EPC?
You can retrieve a copy of your EPC from the Scottish EPC register.
To download your EPC, follow the steps below:
Navigate to the EPC register and click 'Search EPC by Postcode' under the Search EPC tab.
Read and accept the terms and conditions.
Uncheck the non-domestic tick box and enter your postcode into the box provided.
Click search and select the link on the returned list that matches your address.
EPC assessments came into force in 2006 for new buildings and 2009 for existing buildings. Therefore, if your search does not return any addresses matching yours, then it's possible your home has never had an EPC done, though not all valid EPCs are on the register.
Your Area
Want to find out how your neighbourhood's energy efficiency and carbon footprint compares to other areas of Scotland? Click on the button below to launch an interactive web map created using the latest Scottish EPC data.
Image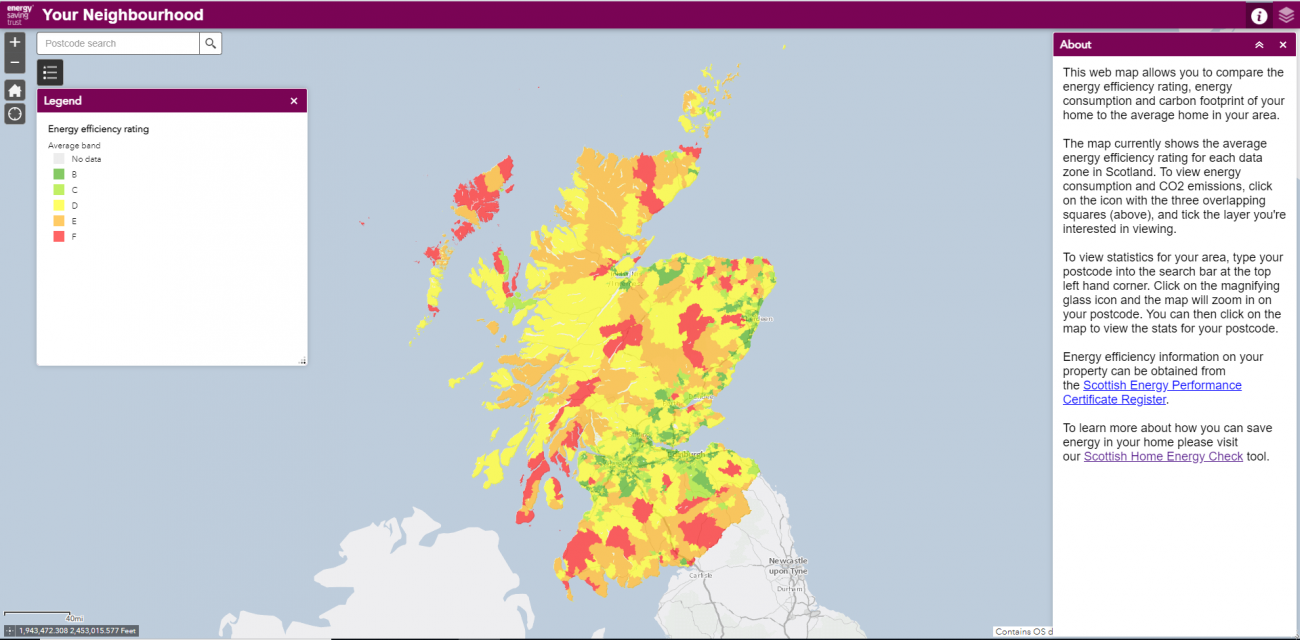 Save Energy
The Home Energy Check is a tool developed by the Energy Saving Trust to help give you quick advice about reducing your energy bill.
By entering some information about your home (which can easily be obtained from your EPC) the tool uses a simplified version of the Standard Assessment Procedure to make assumptions about your home.
The result is a tailored report for your home that recommends improvements and estimates how much you could save on your next energy bill.
More Information
Home Energy Scotland is a network of local advice centres managed by Energy Saving Trust on behalf of the Scottish Government. Our expert advisors offer free, impartial advice on energy saving, renewable energy, sustainable transport, waste prevention and more.
Here are some ways our advisors can help:
Home energy - we can help you save energy and money while making your home warmer. We can also help you do a free Home Energy Check over the phone and pin-point where you can save energy.
Renewables - we can help you work out which renewable systems are right for your home, inform you about financial support and give you a list of reputable installers.
Travel - we can help you learn about alternative methods of travel that can save fuel, reduce your travel costs and improve our environment.
Loans and support - we can tell you if you're eligible for financial support, benefits and incentives. 
To get more information you can get in touch with an advisor directly by calling 0808 808 2282. You can also fill out a call back form and an advisor will call you back within five working days. Our friendly advisors are available to assist you Monday to Friday from 8am to 8pm and on Saturday 9am to 5pm.